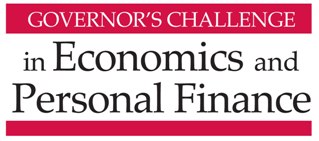 Welcome to the Governor's Challenge - EconChallenge ONLINE competition!
There is no cost to either teachers or students to participate in the Governor's Challenge - EconChallenge ONLINE!
The Virginia Governor's Challenge is an opportunity for students to demonstrate their economic literacy while competing with other students across the state. Teams of three to four students in two divisions complete online exams that may qualify them for an exciting championship competition.
Eligibility
All high school students are eligible. No formal courses in economics are required. Any team of students interested in economics is encouraged to compete. Schools may enter multiple teams in their qualifying divisions. Students not currently enrolled in a qualifying course may participate, as long as they are coached by a school-sanctioned teacher and registered by the teacher.
Divisions
The "Adam Smith" Division includes high school students enrolled in any two-semester econ micro and macro course sequence or courses labeled AP, IB, honors, differentiated, or college level.

The "David Ricardo" Division is for first-time challenge competitors who have taken no more than one economics course - including courses taught to satisfy the Economics and Personal Finance requirement - or any course that teaches economics-related content not labeled as AP, IB, honors, differentiated, or college level, e.g. Government, Business, World Geography. Teams that meet these requirements but have participated in a previous State Championship must compete at the Adam Smith level.
Tools to help you prepare your students can be found at the CEE Economic Challenge website.
Students competing in the EconChallenge Online may also participate in the FinanceChallenge Online competition. Click HERE to go to the FinanceChallenge Online site.